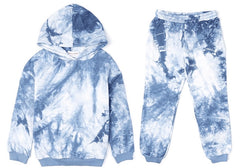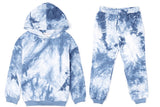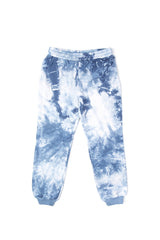 Childrens Blue Tie Dye Lounge Set
Limited Stock Available! Estimated delivery time 2-3 working days. Please bear in mind due to the current situation, there may be shipping restrictions and delays beyond our control. 
This dreamy blue coloured Tie Dye Hoodie Lounge set is the perfect children's outfit for Spring & Summer 2020! 
It is beautifully loose fitting with an elasticated waistband on the bottoms. The lounge bottoms have soft elasticated ankle detail meaning all heights can really enjoy this set. Please note that there are no drawstrings attached to this product. 
Please note our beautiful tie dye sets are all handmade and although we use the same print material for each piece the colour placing is unique to each piece.
Composition
95% Cotton 5% Polyester
Size Chart
Measurements  of the Actual Child
| | | | | | | |
| --- | --- | --- | --- | --- | --- | --- |
| CM | 2-3 years | 3-4 years | 4-5 years | 5-6 years | 7-8 years | 9-10 years |
| Height | 98 | 104 | 110 | 116 | 128 | 140 |
| Chest | 53.5 | 55.5 | 58 | 60 | 64 | 69 |
| Waist | 52 | 52 | 53 | 55 | 58 | 62 |
| Hip | 55 | 58 | 60 | 61.5 | 67 | 74 |
| Outside leg | 57 | 64 | 68 | 72 | 81 | 90 |
Height- Measure from tallest part of head to the floor
Chest - Measure the fullest part and across the shoulders
Waist - Measure around the natural waist
Hip - Measure all around the fullest part of the hips
Outside Leg - Measure length from waist to the floor